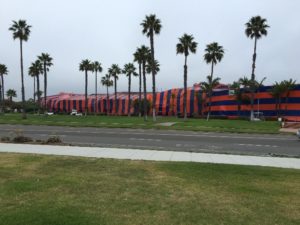 Beneficial Exterminating Tents the Fess Parker Double Tree Resort. Santa Barbara waterfront site is fully covered for one of the largest termite fumigation projects of all time.
Santa Barbara, CA, December 13, 2016
Beneficial Exterminating, Southern California's premier fumigation company, has been contracted to fumigate the lovely Fess Parker Double Tree by Hilton Resorts in Santa Barbara.
The Fess Parker is the largest hotel on the Santa Barbara waterfront. The site has been a landmark along Cabrillo Boulevard since it was built in 1986 by the late actor, developer and local resident who died in 2010.
To see the full report please click here:
http://www.keyt.com/news/money-and-business/fess-parker-doubletree-hotel-closes-for-four-days-to-control-termites/207410591
To be given the opportunity to perform a fumigation job of this magnitude exemplifies the progress Beneficial has made since its purchase by Cade & Company, Inc. in April 2016. The new President, Vimal Dutt, and his dedicated crew have worked tirelessly installing state of the art safety protocols for the crews, surveillance and anti-theft measures, and investing in high tech solutions.
Please join us in celebrating their hard work and welcoming the opportunities that will be forthcoming in 2017.